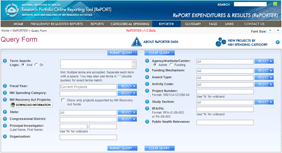 Trying to figure out if your latest idea for a project is already being widely supported by NIH?
Looking for a local collaborator who has the research expertise you need?
Searching for research results on a particular disease or medication?
Want more details about NIH-funded research than you can find in the prepared reports on the NIH RePORT Web site?
RePORTER (RePORT Expenditures and Results) is now ready to help! It replaces the CRISP funded research report tool, which NIH will retire this September after a long and distinguished career.
The new site brings together data from many different sources and lets you search and sort it in new ways. You can still do simple searches by investigator, organization and terms (keywords), but you can also, for example, search just Recovery Act-funded grants or by NIH spending category. The results give you more detailed information about the projects, including funding levels, links to related research papers, resulting patents and other helpful information.
Because you can specify a variety of search terms and topics, you can use RePORTER to generate your own reports.
RePORTER includes information about NIH-supported research at institutions in the United States and throughout the world, as well as NIH intramural research.
Spend a few minutes on the site, and you'll find it's easy to use. That said, RePORTER is still very new and growing, so some features—like the "Term Search" field that currently doesn't support complex, compound queries—will likely improve.
But even as the site moves from version 1.0 beta to full release in the fall, it's already an incredibly convenient one-stop shopping venue for information about NIH-funded research. Come on by!
If you have comments about RePORTER, use the e-mail link at the bottom of each page to send your feedback.