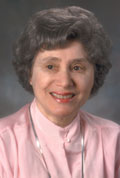 We were all very sad to learn of the death of Ruth Kirschstein, M.D., last evening. She will be deeply missed here at NIGMS, NIH, and beyond.
Dr. Kirschstein was an iconic figure at NIH and in the scientific community. She was the long-time director of NIGMS, serving from 1974 to 1993, and was the first female director of an NIH institute. She also served as acting director of NIH, deputy director of NIH, and in other key positions.
Dr. Kirschstein truly represented the best of NIH—public service, wisdom, and deep knowledge and analysis of important problems. She was so profoundly modest that Congress had to surprise her when they acknowledged her contributions and commitment to research training with the naming of the Ruth L. Kirschstein National Research Service Awards.
I am sure much more will be said and written about her in the future, and we will share this with you in the comments section. I encourage you to post your own thoughts about her as well.
Share...