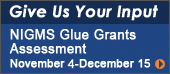 In September 2009, we announced that we were not reissuing the funding opportunity announcement for our Large-Scale Collaborative Project Awards (Glue Grant) program, which has supported research teams tackling significant and complex problems that are beyond the means of any one research group. We are currently assessing the need for this type of support and how best to manage programs of such scope and magnitude.
As part of this effort, we are conducting an assessment of the glue grant program's major outcomes and their impact. We're seeking your views through voluntary input forms posted on the NIGMS Web site. The forms will ask about various aspects of the glue grant program as a whole and about specific glue grant projects, including:
You can read more about the assessment and view the forms at http://www.nigms.nih.gov/Initiatives/Collaborative/GlueGrants/OutcomeAssessment. The site will be open for input until December 15, 2010.
UPDATE: We have extended the comment period from December 15 to January 15.
Share...