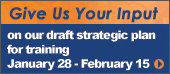 In March 2010, I announced that we were in the process of developing a strategic plan for research training, and I asked for your input.
We heard from more than 300 stakeholders, who included university faculty and administrators, graduate students and postdocs, representatives from professional societies and individuals from government and industry. We also received input from our Advisory Council at its meeting last week.
NIGMS staff and I took these comments into account in producing a draft strategic plan for training. Reflecting the Institute's core values and vision, the plan encompasses several key themes:
Research training is a responsibility shared by NIH, academic institutions, faculty and trainees.
Research training focuses on student development, not simply selection of talent.
Breadth and flexibility enable research training to keep pace with the opportunities and demands of contemporary science and provide the foundation for a variety of scientific career paths.
Diversity is an indispensable component of research training excellence, and it must be advanced across the entire research enterprise.
We've posted the draft training strategic plan for public comment. I invite you to read the plan and give us your input. Between now and February 15, you may submit your comments anonymously through our online form.
Share...