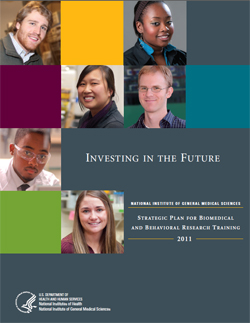 It's been nearly a year since we posted our Strategic Plan for Biomedical and Behavioral Research Training. In August, I announced that we were on course to implement most of the plan in early 2012. I'm very pleased to tell you that our Blueprint for Implementation is now available. As you'll see, it's truly a blueprint, and in the months ahead we'll be posting more details and guidance about each of the action items.
One of the most important messages in the blueprint is that research training is a partnership between NIH and the academic community. We recognize that addressing many of the action items depends on those of you in the front line of training. We also know that many of you already do an excellent job of training and mentoring students and postdocs. Nevertheless, training outcomes can always be improved, and our blueprint aims to provide our view of what excellent training is, along with encouragement and resources to adopt and improve certain practices to achieve the goals of the action items. These ideas are based on the broad input we received over the course of our strategic planning and implementation process.
I encourage you to read the blueprint and the other documents that we post on our new training partnership Web page and send us your comments, questions, suggestions and examples.
Share...