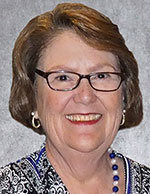 Helen Sunshine, who led the NIGMS Office of Scientific Review (OSR) for the last 27 years, retired in April. Throughout her career, she worked tirelessly to uphold the highest standards of peer review.
Helen earned a Ph.D. in chemistry at Columbia University and joined the NIH intramural program in 1976, working first as a postdoctoral fellow and then as a senior research scientist in the Laboratory of Chemical Physics, headed by William Eaton.
In 1981, Helen became a scientific review officer (SRO) in OSR and was appointed by then-NIGMS Director Ruth L. Kirschstein to be its chief in 1989. During her career in OSR, she oversaw the review of many hundreds of applications each year representing every scientific area within the NIGMS mission.
Much of Helen's success stemmed from her deep knowledge of NIH review policy and practices and her ability to recruit and train talented SROs. She had a gift for maintaining a collegial, collaborative work environment, due in part to the tradition her office had of eating lunch together almost every day.
Helen was an ardent supporter of NIGMS research training programs as well as faculty and student development programs, particularly those at institutions with a historical mission of serving students from underrepresented groups. Early on, she developed procedures for the expert and fair review of training and diversity grant applications that set the standard at NIH for the review of such programs. Helen consistently championed reviewer site visits as a crucial element in identifying and maintaining quality programs. She also provided valuable input on funding opportunity announcements and strategic planning related to training.
Helen was fearless in expressing her views on subjects of importance to NIGMS, NIH and the scientific community. She was a member of many committees and work groups, including the NIH committee that develops, implements and evaluates review policies and procedures. Most recently, she co-led a group that developed guidance for applicants, reviewers and NIH staff on the implementation of a new application resubmission policy. The group received an award from the NIH Director for this work.
Although Helen's wit and humor will be missed, she can begin her well-deserved retirement knowing that she has left a legacy of review excellence.
Share...