UPDATE: Enrollment for the course is open until October 15.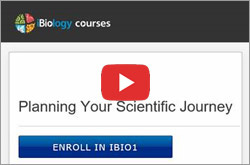 The path to a successful career as a biomedical scientist is rarely direct: There can be stops along the way, and each person has different motivations, opportunities, and challenges. The path also depends, in part, on the institution, program, or department where the student is training, and finding the right scientist, mentor, or coach to help guide that journey isn't the same for everyone. A new online training program supported through an Innovative Programs to Enhance Research Training (IPERT) grant to iBiology can help participants navigate this process.
"Planning Your Scientific Journey
," provides training for undergraduate and graduate students on successfully navigating the path to a research career. The interactive lessons may be useful for postdocs and early career scientists, too. Topics include:
Developing a good scientific question
Establishing a plan of action
Asking for advice and developing collaborations
The free 6-week course will take place October 2 to November 13. The course can accommodate nearly 20,000 participants. New course content will be released on a weekly basis to allow students time to focus on each week's lessons. The course is expected to be offered again in either the spring or fall of 2018. Ultimately, iBiology plans to make this course available in a self-paced format—further enhancing students' ability to benefit from the course offering, and to revisit the course content at any time.
iBiology is just one of the awardees in our IPERT program. IPERT R25 grants support creative and innovative research educational activities that are designed to complement and/or enhance the training of a workforce to meet the nation's biomedical research needs. Each IPERT grant must also address the NIGMS goal of creating a highly skilled and diverse biomedical workforce, and integrate three required elements: short courses/workshops for skill development, mentoring, and outreach. To learn more, visit the IPERT webpage. The next receipt date for applications is January 23, 2018.
Share...