I'm pleased to announce the debut of Pathways
, a collaboration between NIGMS and Scholastic, Inc., that provides a collection of free educational resources about basic biomedical science and research careers.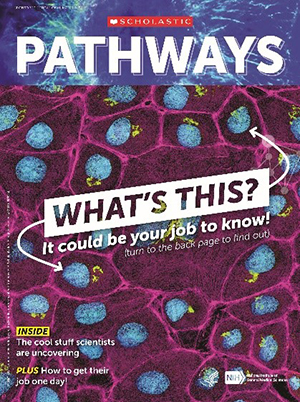 Cover of
Pathways
student magazine.
Pathways, designed for grades 6 through 12, includes a student magazine, teacher lesson plans, activities, and videos, all available at http://www.scholastic.com/pathways
. The Pathways student magazine is also being distributed this month to subscribers of Scholastic's Science World magazine, reaching nearly 500,000 students in all 50 states. The magazine and accompanying resources feature our very own NIGMS scientists, including:
"Beetle Guy" Ryan Bracewell, a postdoctoral fellow at the University of California, Berkeley;
"Viral Star" Mavis Agbandje-McKenna, a professor at the University of Florida;
"Gene Detective" Melissa Wilson, an assistant professor at Arizona State University (and our upcoming ECI lecturer);
"Powerhouse" Christian J. Garcia, a Ph.D. student at Columbia University;
"Bacteria Spy" Alecia Dent, a Ph.D. student at the University of Maryland, Baltimore, School of Pharmacy; and
"Science All-Star" Michael Young, Nobel laureate and a professor at Rockefeller University.
By informing students about careers in basic science—and exciting advances in basic biomedical research—we hope to inspire the next generation of scientists. Please share this information with any teachers or 6th through 12th graders you know.
Share...