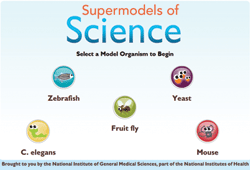 Many kids (and adults) learned more about science and technology at the 2-week-long USA Science & Engineering Festival
this month in Washington, D.C. The event featured hundreds of activities, including performances, workshops, demonstrations, tours of mobile labs and interactive games. A number of these were hosted by NIH, which was also one of the event sponsors, and most of its components. The festival wrapped up last weekend with a grand finale expo on the National Mall.
On Sunday, I helped host the NIGMS booth, where we presented a computer activity called "Supermodels of Science." It showed how model organisms—from slimy worms to furry mice—help scientists learn more about human health. The kids were most excited about responding to the quiz questions at the end of each segment. They also were very interested in how scientists use GFP to make organisms glow different colors.
Other NIH activities included a musical performance by NIH Director Francis Collins; the National Human Genome Research Institute's "Strawberry DNA Extraction," a hands-on lab experiment where visitors used a soapy mixture to remove DNA from mashed strawberries; and the National Institute on Deafness and Other Communication Disorders' "It's a Noisy Planet," where staff increased the volume on an iPod to demonstrate dangerous noise levels.
The festival's turnout was excellent—about 500,000 people attended the weekend event. The kids were excited about science and eager to learn, and the volunteer staff members were thrilled to teach them about the research we support.
We'll post the "Supermodels of Science" activity on the NIGMS Web site soon, and you're welcome to use it in your own educational outreach efforts.