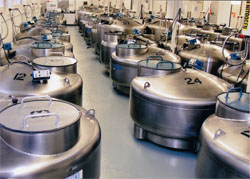 Good news—we just awarded a five-year contract to the Coriell Institute for Medical Research to continue and expand operation of the NIGMS Human Genetic Cell Repository (HGCR)
.
A lot of NIGMS grantees who do basic research may not be familiar with the HGCR. It currently has more than 10,000 cell lines from individuals who have genetic disorders and those who do not. The cell lines, each of which has been comprehensively characterized and is contaminant-free, represent nearly 1,000 disorders. An equally important element of the HGCR is the human variation collection, which includes samples from populations around the world.
Under the new contract, the repository will continue to acquire, characterize and distribute cell cultures and DNA samples. In the coming months, it will add induced pluripotent stem cell lines that researchers can use to study inherited diseases and the regulation of normal cell differentiation. To respond to the changing needs within the genetics community, the repository will also start accepting custom orders.
One of the real advantages of ordering materials from the repository has been and certainly will continue to be the high level of characterization and quality control.
You can read more about the repository in the NIGMS news release. You can also go to the HGCR online catalog
to see what cell lines are available.
If you've used the repository, let me know what you think. If you haven't, keep it in mind for future studies—it's a great resource for getting good quality human cell lines, especially ones that may otherwise be difficult to obtain.