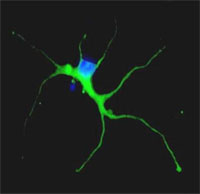 As we anticipated last year, the NIGMS Human Genetic Cell Repository
(HGCR) now offers human induced pluripotent stem cell lines that carry disease gene mutations. The first five lines to be made available were derived from individuals with Huntington's disease, juvenile onset diabetes, severe combined immunodeficiency disease, muscular dystrophy and spinal muscular atrophy. The repository is developing more cell lines representing other diseases.
The iPS cell lines
, along with more than 10,000 others in the repository, are comprehensively characterized to ensure their identity, stability and purity. This quality control makes the repository an excellent resource for researchers who need well-characterized, disease-specific cells.
You can order any of the repository's cell lines via the HGCR catalog
.