Yesterday, we posted a request for stories on the impact of Recovery Act funding. Comments to this post revealed some areas of frustration and misunderstanding that I would like to address.
First, I'd like to say that one of the big Recovery Act stories is the scientific community's huge response with exciting ideas. Indeed, we've received many more proposals—including requests for administrative supplements—than we can fund, even at the high level of the Recovery Act allocation. We know how much effort is involved in preparing applications, and we're deeply grateful to the large number of scientists who have agreed to help review these proposals.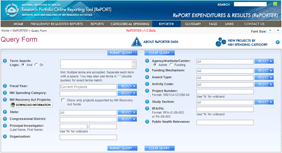 At any time, you can use the NIH RePORTER site to view Recovery Act projects funded by NIGMS and other components of NIH.
To date, we have awarded approximately $50 million of the $500 million allocated to NIGMS over the two-year period of the Recovery Act. Of these, approximately 130 are supplements to ongoing R01s, 40 are two-year R01s, and 60 are supplements to other award types. Many more awards are in progress!
Just as it has been new for you, much of the process related to the Recovery Act has been new to NIH. Since the Recovery Act was passed, NIH staff has been working hard to develop and implement systems that allow decisions and awards to be made quickly while maintaining the standards of fairness, accountability, and rigor that the scientific community and taxpayers rightfully expect.
Since this is an NIH-wide and, indeed, a government-wide effort, these processes are extensive. After a recommendation is made and approved to fund a particular award at the NIGMS level, our grants management staff must prepare the award, working with your sponsored research offices to determine the precise amount of the award and to make sure that any outstanding issues are resolved. Some awards can be processed more quickly than others. Then, award recommendations are consolidated at the NIH level and processed further. While we have made considerable efforts in streamlining these steps (and, as noted above, many awards are now working their way through this process), it still takes time, and we are not able to provide much information to applicants until the process is complete.
The bottom line is that we are working as hard as we can to get these awards out, in addition to the awards we make with our regular appropriation. If you have not heard anything, it does not mean that your Recovery Act application will not be funded! We will let you know any definitive information—positive or negative—as soon as we can.
Also, no awards have been made for any of the trans-NIH initiatives such as the Challenge Grants, GO grants and P30 Faculty Start-Up grants. The Challenge Grants have recently been reviewed and scored. NIH, through the Office of the Director, had committed to funding 200 Challenge Grants. Many institutes and centers have set aside funds to support additional Challenge Grants. My best guesstimate is that something like 600 Challenge Grants will be funded NIH-wide. The review processes are still under way for the GO grants and P30 Start-Up grants. None of these awards will be made until close to the end of the fiscal year (September 30), as these applications must all go through review by the advisory councils.
I hope that this helps clarify some of the major points of concern. Please let me know if you have additional questions.
Share...