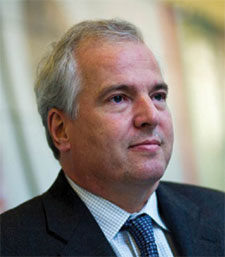 NIH Director Francis Collins today announced his selection of Chris A. Kaiser as the new director of NIGMS. Dr. Kaiser expects to begin his appointment here in the spring of 2012. We are delighted by this news, and we appreciate the efforts of the NIH search committee in identifying and vetting candidates for the position.
A leading cell biologist, Dr. Kaiser has been head of the Department of Biology at MIT since 2004. He joined the MIT faculty in 1991 and became a full professor in 2002.
Dr. Kaiser is not new to the NIGMS community—he has been an NIGMS grantee since 1992 and has served on several NIH review committees. His research uses yeast to study the basic mechanisms of protein folding and intracellular transport, particularly how secreted and other proteins form disulfide bonds. He started this work as a graduate student at MIT in David Botstein's lab, then expanded on it during a postdoctoral fellowship with Randy Schekman at the University of California, Berkeley. He plans to continue his research at NIH.
In the NIH news release on his selection, Dr. Kaiser said, "In taking this position, I feel a compelling call to duty for national service and to be an advocate for the basic research enterprise."
We welcome his leadership and vision, and we very much look forward to working with him.