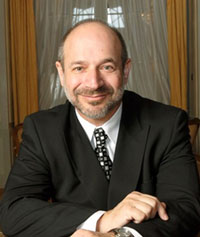 We are pleased that Bruce Beutler, who has been an NIGMS grantee since 2000, is a recipient of this year's Nobel Prize in physiology or medicine
. He was cited for "discoveries concerning the activation of innate immunity." We congratulate him on this great honor.
Beutler has been at the Scripps Research Institute since 2000 but is moving back to the University of Texas Southwestern Medical Center, which is where he worked when he discovered the receptor for endotoxin in 1998.
While we did not support him at that time, we began funding him shortly thereafter to further explore this seminal discovery. Our first grant to him was titled "TLR4 as an LPS Sensor and Susceptibility Locus," and our second was titled "Mutagenic Analysis of LPS Responses." The latter grant, which is still active, was awarded as an R01 in 2003 and converted to an R37 (MERIT Award) in 2008.
With this support, Beutler pioneered the use of a novel mutagenesis process in model systems to characterize several key intermediates in the Toll-like receptor signaling pathway of the innate immune response. These and other advances have formed a molecular framework for a deeper understanding of innate immunity, which is essential for normal host defense but which can also go awry, causing chronic inflammatory diseases and sepsis.
Today's Nobel news comes on the heels of last week's announcement that the National Medal of Science will go to two of our grantees, Jackie Barton of Caltech and Peter Stang of the University of Utah.
And at the other end of the career spectrum, NIGMS grantee Sara Sawyer of the University of Texas at Austin is among the 20 NIH-funded scientists who were just selected for the Presidential Early Career Award for Scientists and Engineers. This award is the nation's highest honor for scientists at the beginning of their professional careers.
We congratulate these grantees on their notable recognitions.
Share...