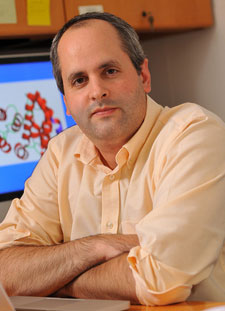 Credit: Mike Ciesielski
I am delighted to tell you that NIH Director Francis Collins today announced his selection of Jon R. Lorsch as the new director of NIGMS. Dr. Lorsch expects to begin his appointment here in the summer of 2013.
Dr. Lorsch comes to NIH from Johns Hopkins University School of Medicine, where he is a professor in the Department of Biophysics and Biophysical Chemistry. He earned a Ph.D. in biochemistry from Harvard University with Jack Szostak and was a postdoctoral fellow in biochemistry at Stanford University with Daniel Herschlag. His research, which NIGMS has funded since 2000, focuses on translation initiation in eukaryotes. During his tenure at Hopkins, Dr. Lorsch was also involved in graduate and medical education, including curriculum reform, mentoring and spearheading new biomedical education initiatives.
In meeting with Dr. Lorsch, I have been most impressed by his understanding of NIH and the issues that are central to the NIGMS mission of supporting basic research, research training and workforce diversity. He brings a passion for science, a commitment to education and demonstrated leadership. We very much look forward to welcoming and working with him.
Share...