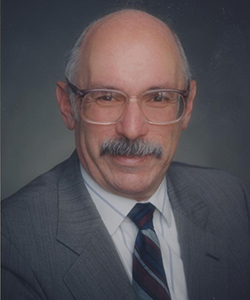 Credit: NIGMS.
We in the NIGMS family are deeply saddened by the loss of our former director Marvin Cassman, Ph.D., on August 6. Dr. Cassman joined NIGMS in 1975 as a health scientist administrator in what was then the Cellular and Molecular Basis of Disease Program, advancing through the ranks to become NIGMS' deputy director, acting director, and from 1996 to 2002, director. Dr. Cassman's tenure as director coincided with the period of NIH's budget doubling, and he ably led NIGMS' establishment of key initiatives that have had a worldwide impact. These included the Protein Structure Initiative, the goal of which was to make the three-dimensional, atomic-level structures of most proteins easily obtainable from knowledge of their corresponding DNA sequences. This enabled investigators to apply the new paradigm of high-throughput structure determination to study important biological and biomedical problems.
Furthermore, he guided the establishment of the Pharmacogenomics Research Network, which promoted an understanding of the genetic contributions to drug responses and fostered the sharing of methods, data, knowledge, and implementation strategies through resources for the research community, including PharmGKB. We also remember Dr. Cassman for recognizing the need for basic research—particularly in structural biology—in the fight against AIDS and for his strong commitment to ensuring that research instrumentation was available to the scientific community.
Dr. Cassman was well liked and highly respected by NIGMS staff and the broader research community. He received the 1983 NIH Director's Award and the 1991 Presidential Meritorious Executive Rank Award.
After leaving NIGMS, Dr. Cassman was appointed as the first director of the Institute for Quantitative Biomedical Research (QB3) at the University of California, San Francisco (UCSF), Mission Bay campus. Upon his retirement from UCSF, he served on a number of national and international advisory committees. Dr. Cassman enjoyed music, especially opera. He leaves behind his wife Alice, whom he married in 1972.
Share...