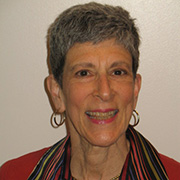 I am pleased to tell you that Judith Greenberg has agreed to serve as acting deputy director of NIGMS while a search for a permanent deputy director takes place. A news announcement on her appointment is posted at http://www.nigms.nih.gov/News/Results/pages/
20131024a.aspx.
As most of you know, Judith has served in numerous leadership roles at NIGMS and NIH, including two stints as NIGMS acting director.
In her new role, Judith will provide advice and expertise on all Institute activities. She will also continue to serve as director of the Division of Genetics and Developmental Biology, a position she has held since 1988.
Once the job announcement for a permanent deputy director is posted, I will be sure to alert you via this blog.