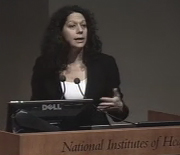 The DeWitt Stetten, Jr., Lecture is an annual October event that gives us the opportunity to showcase outstanding scientists and their cutting-edge research to the NIH community.
This year's speaker, Bonnie Bassler, gave an exceptional talk on quorum sensing in bacteria, and I highly encourage you to watch the videocast. Bonnie's work is yet another illustration of how curiosity-driven research–in this case, into why bioluminescent bacteria only glow at high cell densities–can reveal fundamental biological processes that would have been very difficult to foresee with more directed research approaches. The potential applications of Bonnie's discoveries include the prevention of dangerous biofilms and the development of new antibiotics and rational probiotics.
Adding to this year's Stetten Lecture excitement were the Nobel Prizes to past speakers (Elizabeth Blackburn in 1990 and Ada Yonath and Venki Ramakrishnan (along with Peter Moore) in 2000). We've previously featured several Nobel laureates as lecturers after they won the prize, but this is the first time the lecture preceded the prizes. We'll see if the trend continues!