NIH has just reissued program announcements for Ruth L. Kirschstein National Research Service Award (NRSA) individual fellowships at the predoctoral (F31), postdoctoral (F32) and senior (F33) levels.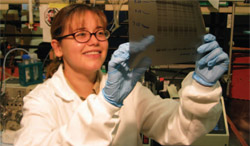 If you plan to apply, be sure to read the recent NIH Guide notice applying to NRSAs. Effective with the August 8, 2009, submission date, NIH will only accept electronic applications for F-series programs. There are other changes, too, including how letters of reference are submitted, how many amended applications you may submit (only one), and how review is structured (there are now five review criteria). In addition, reviewers will use the new scoring system for individual fellowships starting with applications reviewed at the summer 2009 study section meetings.
I am happy to answer your questions about the F32s and F33s, and Adolphus Toliver can answer questions about the diversity-oriented F31s.
As some of you may know, I recently became the acting research training director at NIGMS after John Norvell retired this past March. For more than 20 years, John provided outstanding leadership for training at NIGMS and across NIH, and he brought about many significant improvements.
I welcome your input on training matters and look forward to working with you in my new role.
Share...