On Monday, Francis S. Collins, M.D., Ph.D., became the 16th director of the National Institutes of Health. He was nominated by President Obama on July 8 and unanimously confirmed by the U.S. Senate on August 7.
Dr. Collins is well known in the scientific community and is very knowledgeable about NIH at all levels, serving as the director of the National Human Genome Research Institute from 1993-2008 and being a productive intramural investigator. NIH issued a news release with more biographical information.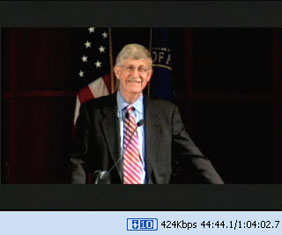 Shortly after being sworn in, Dr. Collins held a town hall meeting with NIH staff. In his remarks, he eloquently outlined his vision and priorities, which include securing stable funding for biomedical research, training the next generation of scientists and nurturing early stage investigators.
I had my first opportunity to work closely with Dr. Collins soon after I came to NIH in 2003. It was in the context of the Molecular Libraries Initiative of the NIH Roadmap for Medical Research, which includes the PubChem database. As a chemist, I was very interested in the initiative's potential for building new linkages between chemistry and biomedical research.
In these and other interactions, Dr. Collins impressed me with his passion for principles, strategic thinking and careful preparation. I share the sense of excitement and optimism he expressed at the town hall meeting regarding the opportunities that lie ahead.
I encourage you to watch the hour-long video of the town hall event.
Share...