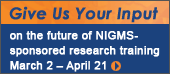 In March, I announced the launch of a strategic planning process focused on training and career development. I encourage all stakeholders, including faculty members, postdocs, graduate students, university administrators and government and industry scientists to provide input on this important topic.
One easy way to make your voice heard is through our online form (no longer available). We list several questions that you can respond to anonymously. You don't have to respond to every question, and you can also make other comments or recommendations.
If you have not yet shared your views, there's still time—the Web site closes April 21.