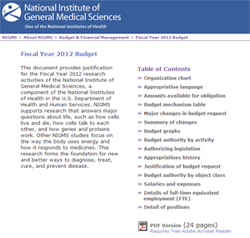 An important step in the annual budget process is the release of the President's budget request, which happened yesterday. The NIGMS slice is detailed in our FY 2012 budget justification, which includes a budget mechanism table, budget graphs, a Director's overview and a justification narrative.
The proposed budget for NIH calls for an increase of 2.4% over Fiscal Year 2010 actual expenditures. The proposed budget for NIGMS represents a 2.5% increase over Fiscal Year 2010.
The reason that the comparisons are to Fiscal Year 2010 is that NIH is currently funded at that year's level under a continuing resolution through March 4, 2011. As described in NIH Guide Notice NOT-OD-11-037, until a final Fiscal Year 2011 appropriation is enacted, NIH is issuing noncompeting research grant awards at a level below that indicated on the most recent Notice of Award (generally up to 90% of the previously committed level). This is consistent with our practice during the continuing resolutions of Fiscal Years 2006 to 2010. NIH will consider upward adjustments to these levels after a final appropriation is enacted.
Share...