The Consolidated Appropriations Act, 2016, provides funding for the Federal Government through September 30. NIGMS has a Fiscal Year 2016 appropriation of $2.512 billion, which is $140 million, or 5.9%, higher than it was in Fiscal Year 2015. With this opportunity to expand NIGMS support for fundamental biomedical research comes a responsibility to make carefully considered investments with taxpayer funds.
Application Trends
One of the most commonly cited metrics when discussing grants is success rate, calculated as the number of applications funded divided by the number of applications received. As shown in Figure 1, the success rate for NIGMS research project grants (RPGs) increased from 24.8% in Fiscal Year 2014 to 29.6% in Fiscal Year 2015. This was due to an increase in the number of funded competing RPGs as well as a decline in the number of competing RPG applications. In contrast, in Fiscal Year 2013, applications increased while awards decreased, leading to a notable decrease in success rate. Overall, we have seen a decrease in RPG applications over the last 2 years, a trend warranting additional investigation.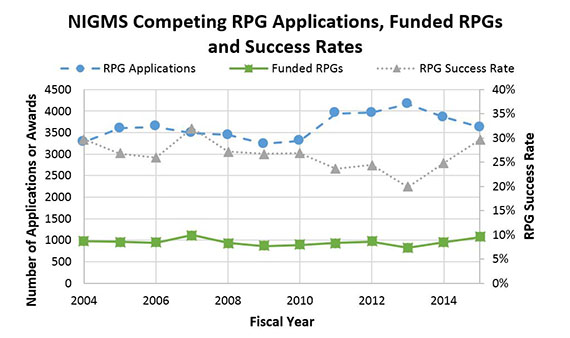 Figure 1. Number of NIGMS Competing RPG Applications, Funded Competing RPGs and Success Rates for RPGs, Fiscal Years 2004-2015. NIGMS RPG applications (blue circles, dashed line; left axis) decreased from Fiscal Years 2014 to 2015 to a 5-year low. Meanwhile, NIGMS-funded RPGs (green squares, solid line; left axis) increased in Fiscal Year 2015 to a level not seen since Fiscal Year 2007. As a result, the NIGMS RPG success rate (gray triangles, dotted line; right axis) was the second highest it has been in the past decade.
Continue reading

"Application and Funding Trends"