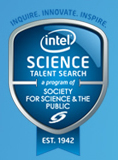 I recently had the pleasure of attending the awards ceremony for this year's Intel Science Talent Search. Before the award announcements, I enjoyed visiting the posters of many of the 40 finalists. These high school students displayed impressive knowledge and passion for their projects, many of which were quite sophisticated. A number of the finalists were even savvy enough to test my understanding so they could pitch their presentation to me at an appropriate level.
A highlight of the evening was definitely the award presentations themselves. The winners were clearly thrilled to be recognized among an incredibly accomplished group of young scientists. The speakers—who included Elizabeth Marincola
, president of the Society for Science & the Public, which runs the Science Talent Search program; Paul Otellini
, president and CEO of Intel; Miles O'Brien
, who covers science on the PBS NewsHour; and one of the students, selected by his peers—uniformly stressed the importance of communicating the excitement and value of science to the public.
This is a good reminder to all of us in the scientific community about our responsibility to reach out broadly to explain what we do and why we do it in understandable terms that can inform the public and potentially inspire new members of future generations of scientists.
Share...