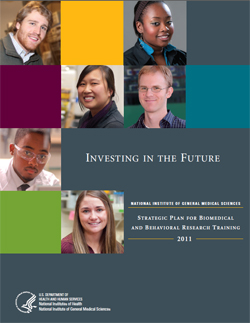 We have just posted the final version of Investing in the Future: National Institute of General Medical Sciences Strategic Plan for Biomedical and Behavioral Research Training. Fifteen months in the making, the plan reflects our long-standing commitment to research training and the development of a highly capable, diverse scientific workforce.
In an earlier post, I shared the plan's four key themes.
As you'll see, the plan considers training in the broadest sense, including not just activities supported on training grants and fellowships, but also those supported through research grants. It strongly encourages the development of training plans in all R01 and other research grant applications that request support for graduate students or postdoctoral trainees. And it endorses the use of individual development plans for these trainees as well as the overall importance of mentoring.
Finally, the plan acknowledges that trainees may pursue many different career outcomes that can contribute to the NIH mission.
My thanks to the dedicated committee of NIGMS staff who developed the plan and to the hundreds of investigators, postdocs, students, university administrators and others who took the time to give us their views throughout the planning process.
We've already started implementing the plan's action items. While there are some that we can address on our own, others will require collaboration. We will again be reaching out to our stakeholders, and we look forward to continued input from and interactions with them to achieve our mutual goals.
Share...