Last September, I posted our funding allocation for research project grants (RPGs) in Fiscal Year 2012. I noted our strong commitment to RPGs—the vast majority of which are investigator-initiated R01 grants—and showed that we expected to spend 67% of our budget on them.
I want to update you on our Fiscal Year 2012 budget, which now includes programs transferred from the former National Center for Research Resources (NCRR), and offer some historical perspective on our RPG funding.
Figure 1 shows the amount NIGMS spent on RPGs compared to the total budget from 1998 to the present. From 2003 through 2011, the total RPG budget increased nearly every year, but not at a pace sufficient to maintain the same number of grants. Nevertheless, we expect to fund 184 more RPGs in Fiscal Year 2012 than we did in Fiscal Year 1998.
RPGs as a Proportion of the NIGMS Budget
Fiscal Years 1998-2012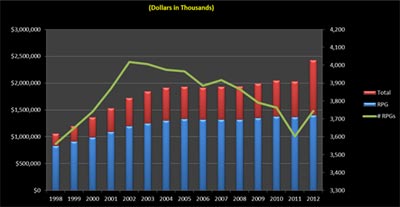 View larger image
Figure 1. Comparison of research project grant (RPG) budgets in Fiscal Years 1998-2012, compared to the total NIGMS budget.
The increase in the total budget for Fiscal Year 2012 reflects the transferred NCRR programs, many of which are centers. During the 1998-2003 budget doubling period, the proportion of centers rose from 0.6% to 8.6% and remained at about 8% through Fiscal Year 2011. These centers enabled NIGMS to address important scientific opportunities and enhance the basic science infrastructure.
Following the transfer of the NCRR programs, 58% of our budget will support RPGs and 20% will support centers, as shown in Figure 2. Despite the percentage shift, the amount of money spent on RPGs is comparable to that in recent fiscal years, and maintaining RPGs and investigator-initiated R01s will remain our focus.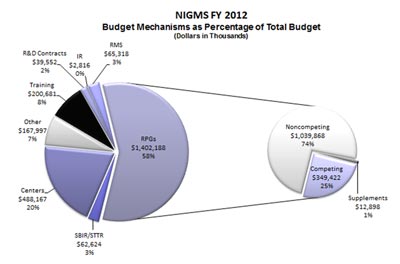 View larger image
Figure 2. Fiscal Year 2012 breakdown of the NIGMS budget into its major components. About 58% of the budget will support RPGs and about 20% will support centers.
Share...