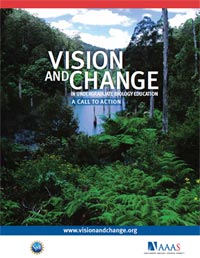 A national effort called PULSE (Partnership for Undergraduate Life Science Education)
is under way to transform undergraduate biology education at the departmental level.
Along with the National Science Foundation and the Howard Hughes Medical Institute, we will select 40 "Vision and Change Leadership Fellows" to devise prototypic solutions that facilitate the systemic changes outlined in Vision and Change in Undergraduate Biology Education: A Call to Action. These efforts will inform future investments by NSF, HHMI and NIGMS.
We expect fellows to be departmental chairs, former chairs, deans or faculty members at equivalent levels who demonstrate a passion for undergraduate biology education, concern for its future and a desire to act at the local and national levels. Other qualifications include:
Awareness of the history and current thinking about undergraduate life science education reform.
Undergraduate teaching experience as well as experience mentoring, motivating and evaluating other faculty.
Active involvement in cultivating the mix of scholarship in teaching and life science research at their type of institution.
As fellows, their activities will include:
Proposing thoughtful and creative approaches to implementing recommendations of the Vision and Change report.
Engaging in open exchange and assessment of ideas.
If you're interested in applying, go to http://PULSEcommunity.org for complete details, including a video, sample application, FAQs and more. The application deadline is July 9, 2012. For more information, e-mail me or Shiva Singh, in the Training, Workforce Development and Diversity Division.
Share...