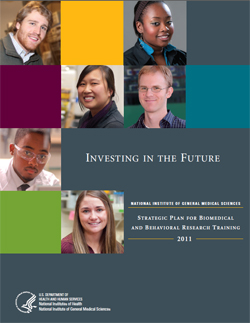 Many of the themes in our strategic plan for research training have been echoed by the Biomedical Workforce Working Group of the Advisory Committee to the Director, NIH. Among these is the use of individual development plans (IDPs) to facilitate career development discussions and planning between mentees and mentors. I'm delighted to share some progress on this front.
A recent NIH Guide notice encourages institutions to:
Develop an institutional policy requiring an IDP for every graduate student and postdoctoral scientist supported by any NIH grant, and
For more details, read this blog post from NIH's Sally Rockey.
The Blueprint for Implementation of our training strategic plan provides links to resources for developing IDPs, including AAAS's myIDP 
Web site. Another source of useful tips is a presentation on "Facilitating Career Development through Individual Development Plans" given by Philip Clifford of the Medical College of Wisconsin at our recent Training, Workforce Development, and Diversity Program Directors' meeting.
IDPs are a valuable tool to help graduate students and postdocs identify their career goals and what they need to accomplish to achieve those goals. They are one part of the changing conversations about preparing trainees for the broader landscape of exciting biomedical careers.
Share...