We're pleased to announce the launch of our redesigned website, https://www.nigms.nih.gov. Among the site's new and improved features:
Easier navigation with fewer clicks
Modern, visually appealing look
Enhanced science education pages
Improved search functionality
Format that's both computer- and mobile-friendly
And more!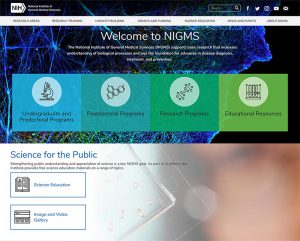 The new NIGMS website was developed according to industry best practices and feedback from our users. Please note that URLs have not changed, but older/outdated content was archived to reduce the number of pages on the site.
We welcome your questions and comments about the new site. If you have feedback, please post your comments below or send them to info@nigms.nih.gov.
Share...