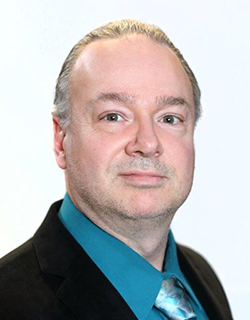 Dr. Brian Pike.
I'm greatly saddened to share the news that Brian Pike, a longtime colleague in our Scientific Review Branch (formerly the Office of Scientific Review), passed away on November 18, 2021.
Brian first joined NIGMS as a scientific review officer in 2002, and he was also acting chief of our review office for much of 2016. He had previously held a faculty position at the University of Florida in the department of neuroscience, where he worked on traumatic brain injury. Before that, he performed postdoctoral research at the University of Texas Health Science Center at Houston, studying calpains and caspases in neuronal cell death.
Although Brian's scientific background was clearly rooted in neurophysiology, he had a remarkable ability to stretch that science to manage the review of any and all applications submitted to NIGMS for funding. Indeed, he became a veritable archive of knowledge (and tales) about the myriad of funding initiatives that passed through the Institute over 19 years.
His legacy is one that touches not only his NIH friends and colleagues, but also the many reviewers and applicants with whom he interacted. All who worked alongside Brian will remember him for his kindness, generosity, mentorship, and, above all, for his being there for anyone who asked. We also won't forget his quirky sense of humor, his detailed recounting of football plays, his topic-of-the-moment guitar songs, and his fondness for including screenshots in emails. He was one of the best and is greatly missed.
Share...