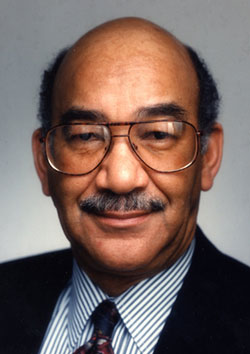 We were very sad to learn of the death of Adolphus Toliver, Ph.D., on March 26. Dr. Toliver–or Tol, as he preferred to be called–was a staunch supporter of diversity. His vision and dedication to increasing the participation of underrepresented minority students in biomedical research resulted in the development and improvement of many NIH programs.
Tol joined NIH in 1975 as the executive secretary of the biochemistry study section in the former Division of Research Grants (now the Center for Scientific Review). He was instrumental in assessing the emerging areas of biochemistry and molecular biology, which resulted in the creation of two new study sections, and increasing the participation of women and underrepresented minorities in his study section. Tol also advised innumerable young biochemists who became successful grant writers and prominent researchers.
In 1994, Tol joined NIGMS as chief of the Minority Access to Research Careers (MARC) Branch. In this position, he found his true calling, because he was a great and natural mentor and was able to continue to touch the lives and careers of many, especially those participating in the MARC program.
Tol's contributions as an exec sec and as MARC Branch chief will have a lasting impact on science and the scientific community on many levels. However, he will probably be best remembered as the "father" of the Annual Biomedical Research Conference for Minority Students (ABRCMS)
. Now in its 13th year, ABRCMS has grown to a 4-day event that was attended last year by more than 3,300 student and other participants from across the nation.
Many of you have written to express your thoughts on what Dr. Toliver's guidance and teachings meant personally and professionally, and I encourage you to share them here as well. I think Dr. Peter Lipke from Brooklyn College summed up how many of us feel when he stated that "in Dr. Toliver we have lost a true champion in all the senses of the word."