We know you're eagerly awaiting Recovery Act funding decisions and curious about how we plan to distribute these funds. Although we still don't have all the information we need to make firm allocations, I can provide the following snapshot of what we're currently projecting.
About three-quarters of NIH's Recovery Act appropriation was distributed to the institutes and centers, which have considerable flexibility in how they invest these funds. Our strategy at NIGMS is a diversified one, as shown in the figure below.
Estimated Distribution of NIGMS Recovery Act Funds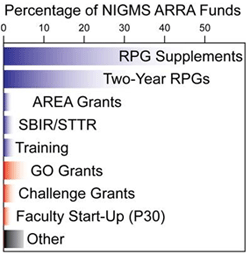 Applications in the first five categories (blue) were submitted and reviewed prior to the Recovery Act. The next three categories (red) are Recovery Act programs that solicited new applications, which are now being reviewed. The final category (black) includes supplements to research centers, research management and support and some other programs.
Some institutes that had very low R01 success rates are using nearly all of their Recovery Act funds for two-year grants to support previously submitted and reviewed applications for R01s and other grants. NIGMS has maintained a higher success rate, in part by making relatively large administrative budget adjustments to funded grants. We know that this approach can make it difficult to achieve some grant aims in a timely manner. The Recovery Act offers an opportunity to accelerate the pace of this previously peer-reviewed and funded research while creating jobs and stimulating the economy.
Because our success rate is higher than those of most other institutes, we are making a relatively large number of Recovery Act awards for administrative supplements and revisions. The next largest category, two-year research project grants, will support exciting proposals that we were not able to fund with our regular appropriations.
We are not making awards in a formulaic manner, but rather on a case-by-case basis. For two-year grants, each applicant can renegotiate specific aims as appropriate.
We are working to award Recovery Act funds as quickly as possible to benefit the economy and drive scientific progress. Applications for the GO, Challenge and faculty start-up P30 grants are now in, and peer review is under way. Once this review is complete, we will make funding decisions consistent with the areas of interest we stated in the funding announcements.
But even applications that were previously peer reviewed must go through additional steps before we finalize each award.
To help the American public see the distribution of Recovery Act funds in their communities, NIH recently launched a beta version of a Recovery Act funding map. You may be particularly interested in the option to list all grants at an institution, available by clicking on a state in the drop-down list or the table below the U.S. map.
As we move ahead in making these awards, we are also looking forward to tracking the impact of the funding on stimulating the economy, creating and retaining jobs, and producing exciting new results. We look forward to hearing from you about these outcomes and will be providing additional mechanisms to make this easy for you to do.