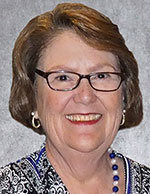 Helen Sunshine, who led the NIGMS Office of Scientific Review (OSR) for the last 27 years, retired in April. Throughout her career, she worked tirelessly to uphold the highest standards of peer review.
Helen earned a Ph.D. in chemistry at Columbia University and joined the NIH intramural program in 1976, working first as a postdoctoral fellow and then as a senior research scientist in the Laboratory of Chemical Physics, headed by William Eaton.
In 1981, Helen became a scientific review officer (SRO) in OSR and was appointed by then-NIGMS Director Ruth L. Kirschstein to be its chief in 1989. During her career in OSR, she oversaw the review of many hundreds of applications each year representing every scientific area within the NIGMS mission.
Continue reading "Long-Time Scientific Review Chief Helen Sunshine Retires"