In a recent post, I presented correlations between the overall impact scores and the five individual criterion scores for sample sets of NIGMS applications. I also noted that the NIH Office of Extramural Research (OER) was performing similar analyses for applications across NIH.
OER's Division of Information Services has now analyzed 32,608 applications (including research project grant, research center and SBIR/STTR applications) that were discussed and received overall impact scores during the October, January and May Council rounds in Fiscal Year 2010. Here are the results by institute and center: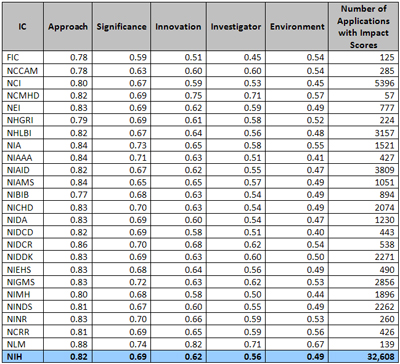 Correlation coefficients between the overall impact score and the five criterion scores for 32,608 NIH applications from the Fiscal Year 2010 October, January and May Council rounds.
High-res. image (112KB JPG)
This analysis reveals the same trends in correlation coefficients observed in smaller data sets of NIGMS R01 grant applications. Furthermore, no significant differences were observed in the correlation coefficients among the 24 NIH institutes and centers with funding authority.
Share...