A select number of graduate students will have the unique and exciting opportunity to meet and learn from dozens of Nobel Prize winners next summer in Germany during the annual Lindau Nobel Laureate Meeting. Now's your chance to nominate 
your most outstanding students.
If you are unacquainted with this program, you can visit the official Web site 
or watch a video about the 2009 meeting. The 2010 meeting will feature Nobel laureates from chemistry, physics and physiology/medicine.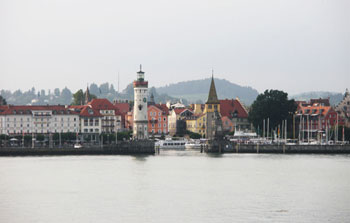 Last year, NIGMS was a sponsor of the meeting, and we are pleased to be one again in 2010. As I described in an earlier Feedback Loop post, the 2009 meeting gave students the opportunity to meet 23 chemistry laureates.
The 2009 U.S. delegation included about 65 graduate students, and I attended as the NIGMS representative. The energy and talent in our group of students were extraordinary! The students, who came from universities all over the country, found this to be a uniquely rewarding experience, with extensive opportunities for networking and international community-building in addition to one-on-one and small-group discussions with the Nobel laureates. Here are a couple of comments from NIH-supported students:
"[It] was an amazing and life-changing experience that is hard to put into words. The meeting gave me inspiration, motivation and hope for my future in science. I was able to learn secrets of success from some of the most highly regarded individuals in the field of chemistry and meet other young researchers [who] will help shape the future of scientific research. Most of all, it helped me realize that being in science is the correct choice for me and that I can, and will, accomplish many things throughout my scientific career.""Such an experience drives people to reach for the big ideas in science. The short-term effect is a comprehensive shaking up of our perception of chemistry, but the long-term effect is the higher standard we set for our research and ourselves."
The nomination and selection process will be exceptionally competitive, as the scientific coverage will be much broader than last year. Each university may nominate only one student per sponsoring agency (NIGMS, NSF and DOE). Keep in mind that nominees for NIGMS sponsorship must be involved in projects supported by NIGMS or supported by an NIGMS training award. Additional information about the meeting, including student eligibility and the nomination procedure, may be found at this Web site 
. Nominations are due by October 30 and should be submitted directly to the Lindau organization using an electronic submission form.
Please contact the organizer of the U.S. delegation, Sam Held, with questions about the 2010 event or nomination procedures. You may also e-mail me or Mike Rogers at NIGMS, especially with questions about eligibility for NIGMS support.
Share...