In a recent post, I described initial steps toward analyzing the research output of NIGMS R01 and P01 grants. The post stimulated considerable discussion in the scientific community and, most recently, a Nature news article 
.
In my earlier post, I noted two major observations. First, the output (measured by the number of publications from 2007 through mid-2010 that could be linked to all NIH Fiscal Year 2006 grants from a given investigator) did not increase linearly with increased total annual direct cost support, but rather appeared to reach a plateau. Second, there were considerable ranges in output at all levels of funding.
These observations are even more apparent in the new plot below, which removes the binning in displaying the points corresponding to individual investigators.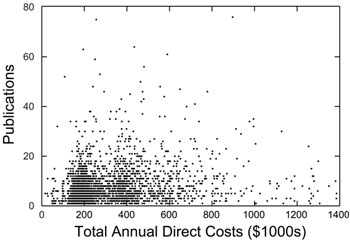 A plot of the number of grant-linked publications from 2007 to mid-2010 for 2,938 investigators who held at least one NIGMS R01 or P01 grant in Fiscal Year 2006 as a function of the total annual direct cost for those grants. For this data set, the overall correlation coefficient between the number of publications and the total annual direct cost is 0.14.
Share...