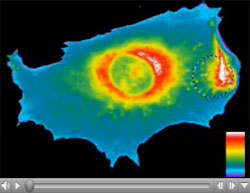 NIH is seeking broad input from the scientific community on challenges and opportunities in single-cell analysis, a topic of great interest and relevance to many NIGMS grantees and applicants. Please help NIH shape its future programs in this emerging research area by sending in your opinions. The request for information (RFI) asks for responses on topics including:
Current conceptual, technical and/or methodological challenges in the field;
Major biomedical research questions that can be addressed by single-cell analysis; and
The highest priority tools and resources needed to move forward.
We hope you'll take the time to weigh in with your opinions and specific examples between now and the March 18 response deadline.
Let me know if you would like to learn more about trans-NIH activities in this area, as I'm a member of the group that issued this RFI—the Single Cell Analysis Working Group of the NIH Common Fund (formerly known as the NIH Roadmap), which provides strategic planning, coordination and support for programs that cut across NIH institutes and centers.
Share...