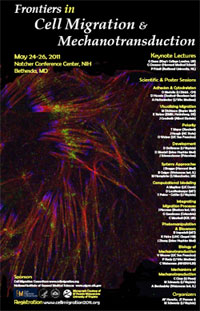 Last week, NIGMS hosted the Frontiers in Cell Migration and Mechanotransduction meeting. It brought together an impressive group of scientists working at many levels, from molecules to cells, tissues and organs.
The overall sense from the meeting is that a wide variety of tools, approaches and even fields have converged on this topic of how and why cells move and that this convergence has become a source of collaboration between communities that historically have not interacted.
Several important themes emerged, including:
Events, such as cell signaling, are highly localized and closely coordinated. In a fascinating talk, Klaus Hahn (University of North Carolina, Chapel Hill) presented new experimental data using a photoactivable and completely reversible probe that he developed for RhoG. Important in wound healing, RhoG turns on immediately at the leading edge when the cell moves and seems to regulate the direction of cell migration and whether a cell can turn.
It's all about forces—once invisible to most techniques that biologists have used, forces are now being deduced and measured internally. Chris Chen (University of Pennsylvania) showed us a stem cell's response to the dish surface generates cellular forces and that these forces affect whether the cell rounds up or spreads. Chen's data suggests that cell spreading is essential for triggering distinct differentiation pathways—and that whether a stem cell becomes a brain or a bone cell is driven by this contractility.
Cells communicate and influence each other. In a talk that linked basic biology to clinical research, Anna Huttenlocher (University of Wisconsin-Madison) showed that leukocyte migration can be an immune response to cell wounding. By using photo-caged biosensors developed by Klaus Hahn, she found that neutrophil cells are more active and recruited more quickly after subsequent wounding events. They also recruit other cells to the wound sites.
The talks, as well as the poster session, pointed to additional conclusions: Cell migration is a collective behavior, and feedback mechanisms control many cell migration events.
This was the third and final meeting organized by the NIGMS-funded Cell Migration Consortium (CMC), whose project will sunset in August 2011. The consortium developed a cell migration gateway that will continue to exist as a resource for updates in the field; you can subscribe at http://cellmigration.org/cmg_update/ealert/signup.shtml (no longer available).
Jim Deatherage contributed to this post.
Share...