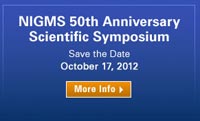 "Investigate, Innovate, Inspire" is the theme of a special scientific symposium marking our 50th anniversary. The event will be held at NIH on Wednesday, October 17, starting at 1:00 p.m.
Please join us in person or by videocast to hear these speakers talk about their NIGMS-supported research, how they recognize and develop exciting ideas, and how they train and mentor the next generation of biomedical scientists:
Carlos Daniel Bustamante, Ph.D.

Professor of Biological Statistics and Computational Biology and Statistical Sciences and Associate Director, Center for Population and Comparative Genomics
Stanford University
"Population Genetics in the Personal Genome Era: Genomics for the World"
Kathleen Giacomini, Ph.D.

Professor of Biopharmaceutical Sciences, Pharmaceutical Chemistry, and Cellular and Molecular Pharmacology and Co-chair, Department of Bioengineering and Therapeutic Sciences
University of California, San Francisco
"Shifting Paradigms for Pharmacologic Research"
Timothy Mitchison, Ph.D.

Hassib Sabbagh Professor of Systems Biology and Deputy Chair of Systems Biology
Harvard Medical School
"Microtubules: From Basic Biology to Cancer Drugs and Back Again"
The symposium, part of the DeWitt Stetten, Jr., Lecture series we started on our 20th anniversary, will also feature student poster presentations selected in competitions at a number of scientific meetings.
For more information about the event, e-mail me or Janna Wehrle.
Share...