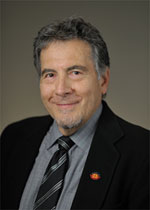 Clifton "Clif" Poodry, Ph.D., director of the NIGMS Division of Training, Workforce Development, and Diversity, retired earlier this month. Although he's left federal service, Clif is continuing to pursue his long-held interest in improving science education as a senior fellow at the Howard Hughes Medical Institute.
Throughout his nearly 20 years at NIGMS, Clif championed—and in many cases, led—activities to build the biomedical research workforce of the future. This included initiatives for training and mentoring students from groups that are underrepresented in biomedical and behavioral research and advising on NIH-wide programs, such as the newly announced Building Infrastructure Leading to Diversity program.
Clif has long been committed to using scientific approaches to understand interventions that promote interest in and pursuit of research careers. He consistently encouraged staff and colleagues to read the scientific literature on training and workforce diversity in order to develop a better understanding of biomedical workforce issues and challenges so that we could create and/or modify programs accordingly.
Clif's long and distinguished career includes time as a biology professor, department chair, associate vice-chancellor for student affairs, and NIGMS grantee at the University of California, Santa Cruz. In the early 1980s, he served a 2-year stint at the National Science Foundation, where he helped create a program that later became a model for the NIH diversity supplement program.
Clif is a great and natural mentor who has touched the lives of numerous students and colleagues across the country, as well as those of us here at NIGMS and NIH. Many of those he mentored have gone on to positions in academia, government and the private sector.
Clif has had a huge impact in many areas, including the education and training of students from underrepresented groups, and we look forward to building on his legacy.
Share...