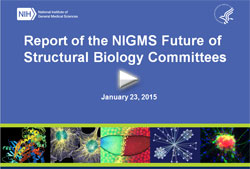 I previously told you about the formation of two committees focused on Protein Structure Initiative (PSI) transition planning. These committees were charged with identifying high priorities for future NIGMS investments in structural biology and determining what unique resources and capabilities developed during the PSI should be preserved to address the needs of the scientific community. Dr. Leemor Joshua-Tor, one of the committee co-chairs, presented the groups' report at the National Advisory General Medical Sciences Council meeting on January 23.
The committees' recommendations for preserving PSI resources that the committees felt will be important for the community in the future include:
Support for a modest number of protein expression resources to serve the needs of the community.
Continued support for a materials repository similar to the one that has been supported through PSI.
Possible continued support for a structural biology knowledgebase .
The committees identified these areas as high priorities for the future of structural biology:
Continued support for synchrotron beamlines for crystallography.
Support for modern cryo-EM resource centers.
Continued support for NMR resources for structural biology.
Support for the integration of structural biology methods.
Support for collaborative, multi-investigator efforts in membrane protein and large macromolecular assembly structure determination.
We're now developing plans for implementing the report's recommendations.
Share...