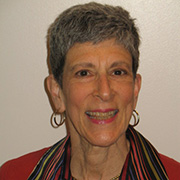 I'm delighted to tell you that Judith Greenberg is NIGMS' new deputy director.
Judith has been a vital member of the NIGMS leadership team for many years, including serving as acting director for two extended periods, as acting deputy director since shortly after I arrived and as director of our Division of Genetics and Developmental Biology since 1988. Her many significant contributions have included leading the development of two strategic plans, spearheading the establishment of important new policies and streamlining a number of internal processes.
Judith has a long record of outstanding leadership and dedication to NIGMS and NIH, and we can all look forward to continuing to benefit from her wisdom, expertise and perspective.
Share...