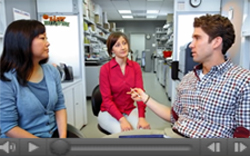 As part of a series of NIH-wide initiatives to enhance rigor and reproducibility in research, we recently launched a Web page that will serve as a clearinghouse for NIH and NIH-funded training modules to enhance data reproducibility. Among other things, the site will house the products of grants we'll be making over the next few months for training module development, piloting and dissemination.
Currently, the page hosts a series of four training modules developed by the NIH Office of the Director. These modules, which are being incorporated into NIH intramural program training activities, cover some of the important factors that contribute to rigor and reproducibility in the research endeavor, including blinding, selection of exclusion criteria and awareness of bias. The videos and accompanying discussion materials are not meant to provide specific instructions on how to conduct reproducible research, but rather to stimulate conversations among trainees as well as between trainees and their mentors. Graduate students, postdoctoral fellows and early stage investigators are the primary audiences for the training modules.
Also included on the page are links to previously recorded reproducibility workshops held here at NIH that detail the potentials and pitfalls of cutting-edge technologies in cell and structural biology.
Training is an important element of the NIGMS mission and a major focus of NIH's overall efforts to enhance data reproducibility. In addition to the training modules we'll be funding, we recently announced the availability of administrative supplements to our T32 training grants to support the development and implementation of curricular activities in this arena.
I hope you find the resources on this site useful, both now and as we add more in the future.
Share...