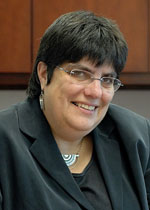 I'm very pleased to announce that Dorit Zuk will be joining us in early 2016 as the new director of our Division of Genetics and Developmental Biology (GDB). Dorit is a molecular biologist whose research has focused on muscle development and RNA metabolism. She also has a strong background in science policy and communications.
Dorit is currently director of the Office of Policy, Communications and Strategic Alliances at NIH's National Center for Advancing Translational Sciences. Previously, she was the science policy advisor to the NIH deputy director for extramural research. And prior to serving in these and other government positions, she worked in scientific publishing as the deputy editor of Cell and then the editor of Molecular Cell.
Her expertise in genetics, developmental biology and other scientific fields; knowledge of policy areas ranging from financial conflicts of interest to the future of the biomedical research workforce; and ability to engage effectively with scientists and other stakeholders make Dorit an ideal choice for this key position and a valuable addition to our senior leadership team.
Please join me in welcoming her to NIGMS.
For more about Dorit, see our news announcement.
Share...