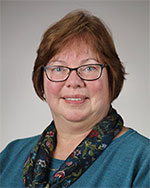 I'm very pleased to announce the selection of Rochelle Long as director of our Division of Pharmacology, Physiology, and Biological Chemistry (PPBC). Rochelle is a pharmacologist who has played leading roles in fostering research in pharmacogenomics through national and international collaborations.
She established and oversees the trans-NIH Pharmacogenomics Research Network and has catalyzed associated partnerships, such as the Global Alliance for Pharmacogenomics and the Clinical Pharmacogenetics Implementation Consortium.
Rochelle has worked in PPBC since 1990, starting as a program director and rising to become chief of its Pharmacological and Physiological Sciences Branch in 1998. She has served as acting division director since Mike Rogers' retirement in May 2015.
Rochelle's plans include building bridges across scientific disciplines, working to strengthen emerging fields and promoting cross-disciplinary research. These are goals across the Institute—they are reflected in our strategic plan—and they're particularly relevant for a broad-ranging division like PPBC.
Since I've had the opportunity to interact with her for several years, I know how skilled Rochelle is at organizing, motivating and generating cohesion among groups of people. These qualities will serve her well as PPBC director and as a member of the NIGMS senior leadership team.
For more about Rochelle, see our news announcement.
Share...