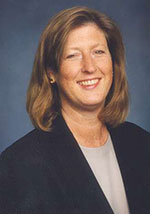 It is with a heavy heart that I share with you the passing of Catherine D. Lewis, former director of the NIGMS Division of Cell Biology and Biophysics. As previously posted, Cathy retired in January after more than 30 years of service at NIH. Although already on the horizon, her plans for retirement were accelerated by a diagnosis of cancer and the need to focus her energies on trying to beat it. Unfortunately, she died just six months later, on July 12.
As noted already, Cathy made many contributions to the scientific community and over a lifetime made many friends. She regularly participated in meetings of the American Society for Cell Biology and the Biophysical Society, but also in more intimate gatherings of scientists such as FASEB and Gordon Research Conferences. She was always interested to hear about research advances and willing to provide guidance about NIH processes. She was equally comfortable engaging non-scientific audiences about the research supported by her division.
Cathy personally managed a robust grant portfolio of cutting-edge research in the fields of nanoscience and single molecule methods. Earlier in her NIGMS career, she managed grants in genetics and developmental biology, as well as grants in structural biology that led to the first crystal structures of the ribosome. She also helped oversee the Institute's initiatives aimed at advancing structural genomics, improving methods for cellular imaging, creating a library of cell images and, most recently, supporting resources for cryo-EM and cryo-EM tomography.
Within NIH, Cathy was known for her work ethic and her ability to make people feel at ease. She managed a division responsible for more than 1,300 grants, and did so with grace, patience and a sunny smile.
Share...