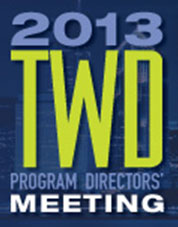 A goal of our Division of Training, Workforce Development, and Diversity (TWD) is to create a community of trainers and educators dedicated to developing a well-prepared, diverse biomedical research workforce.
Toward that end, the focus of this year's TWD Program Directors' Meeting (link no longer available) is on networking. The meeting, to be held on June 12-14 in Chicago, will address the value of sustained networking among the grantees, students and other communities served by these programs. The meeting will enable program directors to learn more about other TWD programs; establish connections with potential new partners, especially regional "neighbors"; and collectively address the Institute's research training objectives.
Plenary sessions and keynote talks will cover the diversity of the U.S. research workforce, STEM training in the context of NIH-funded biomedical and behavioral research, and innovative approaches for evaluating and assessing our training programs. NIGMS and NIH leaders will give overviews of the Institute's training strategic plan and the implementation of the report from the Diversity in the Biomedical Research Workforce Working Group of the Advisory Committee to the Director, NIH.
The meeting is primarily intended for program directors and associate deans (or the equivalent) at institutions with these TWD student and predoctoral training programs: Bridges to the Baccalaureate, Bridges to the Doctorate, IMSD, IRACDA, MARC T36, MARC U-STAR, RISE, PREP, NIGMS T32 predoctoral programs and IDeA INBRE.
Online registration is open now at www.TWDNIGMS.org (no longer available) and closes May 10, 2013.