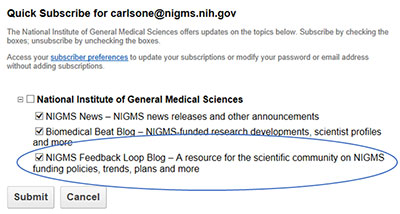 Ever since the NIGMS Feedback Loop launched in 2005, we've sent periodic digests of its content to our grantees, applicants and others. To help our readers receive time-sensitive information sooner, we're now offering a way to get individual posts as they're published on the blog.
If you'd like to receive new posts by email, go to our email updates page, enter your email address, click the Submit button and then check the box next to NIGMS Feedback Loop Blog on the Quick Subscribe page. Each time we add a post to the blog, you'll get an email message with the first part of the post and a link to the full version. We average about 4 posts per month.
For the time being, we'll continue emailing the digests of recent posts. If you subscribe to receive individual posts and no longer want to get the periodic digests, you can cancel your digest subscription. You can also follow the blog via its RSS feed.