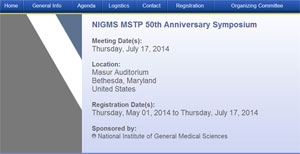 This year is the 50th anniversary of the NIGMS Medical Scientist Training Program (MSTP), which supports research training leading to the combined M.D.-Ph.D. (or other dual) degree. Starting with only three institutions and a handful of supported students, the program has grown to 45 institutions and more than 900 trainees per year.
We're marking this milestone year with a symposium on Thursday, July 17, from 8:00 a.m.-12:00 p.m. on the NIH campus in Bethesda, MD. The event will feature remarks by NIH Director Francis Collins and Association of American Medical Colleges President and CEO Darrell Kirch as well as talks by seven current and former MSTP trainees.
Although the symposium is free, we would like participants to register to attend. If you can't join us in person, you can watch the event live online.
Plans for a scholarly article highlighting the history of the MSTP are under way. If you have comments, anecdotes, historical data, photos or other relevant images, please let us know by writing a note in the comments box on the meeting registration site or by sending me an e-mail message.
Share...