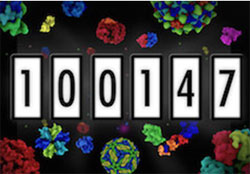 The latest update brings the total number of PDB entries to 100,147.
The Protein Data Bank (PDB) 
 just passed a major threshold—the release of its 100,000th entry. This free online repository of experimentally determined protein and nucleic acid structures, which NIGMS and other parts of NIH have helped fund since 1978, facilitates atomic-level insight into protein structure and function. PDB is widely used by the scientific community to study basic biological processes like transcription, translation, enzymology, bioenergetics and metabolism and also for more medically oriented investigations into disease mechanisms and drug design.
In addition to scientists, students and educators use the digital resource for their own explorations of protein structure, function and interactions as well as to gain greater knowledge about biology.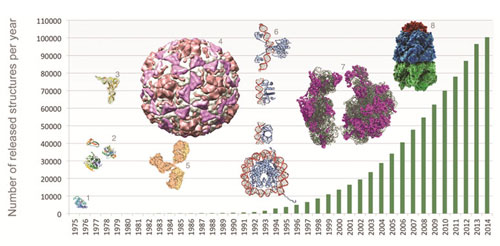 View larger image
Number of structures available in the PDB per year, with selected examples. For details, see http://www.eurekalert.org/multimedia/pub/73206.php?from=267554.
Approximately 260,000 visitors access PDB each month. Scientists around the world currently deposit about 200 structures per week, which PDB staff review, annotate and augment with links to other relevant biological data. To meet the challenges posed by large structures, complex chemistry and use of multiple experimental methods, the repository recently launched a software tool for structure deposition and annotation 
.
If you aren't already a PDB user, I encourage you to check out its resources to see if they could help advance your research.
Share...